Why choose a certified arborist?
While anyone can pick up a pair of tree trimmers and cut branches, certified tree specialists undertake professional tree service projects such as proper tree trimming and removal services. Most tree service professionals also provide more specialized and comprehensive tree services, such as tree pruning and professional stump grinding. Because of our location in Paradise Valley, PV Trimmers also specializes in palm tree trimming. Professional arborists can also assist with other complete tree care needs you my have, such as tree fertilization and soil management, tree planting, tree protection and risk management, and stump removal.
---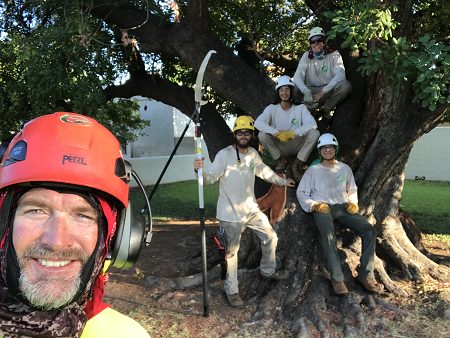 Trimming trees has advantages
Carefully trimming trees can provide several benefits for your property while also looking great. Depending on the type of tree you have and the desired effect, these may include:
Increasing structural stability – Trees can become top-heavy or heavy on a single side. These hazardous trees are more prone to losing branches or falling after natural events like windstorms or tree diseases. Removing these tree branches restores structural stability.
Reducing disease – If your tree has dead or rotting branches, it may contract a disease. By having us identify and remove these harmful areas early, you can limit the damage to your tree and give it the chance to become healthy once again.
Controlling growth – By carefully trimming specific branches, we can control the intake of energy-producing light your tree receives. This can benefit a tree when it needs to enter a dormant state. It can also help thin a tree and avoid wind damage.
Getting a better view – We don't just trim to benefit the tree. If your tree is blocking your view or stopping sunlight from entering your home, we can fix it. We know how to safely manage your trees to promote their health and meet your needs.
---
What Kind of Trees Do You Work On?
While palm trees are one of the more common species in the Phoenix area, our skilled tree service crew can also work on many other types of trees in the region. If you have a tall Aleppo or Canary Island Pine Tree in your yard or neighborhood, we can help keep its height under control to reduce tree felling risk and protect the surrounding structures. Have an Arizona Sweet Orange tree and wish you could get more fruit from it? Our careful tree pruning technique can help improve fruit production too!
PV Trimmers
Frequently Asked Tree Service Questions
How often should I trim my trees? The frequency of tree trimming depends on the type of tree, its age, and its location. Generally, we recommend you have your trees trimmed every 3-5 years.
Why is tree trimming important? Tree trimming is important for several reasons. It helps to keep trees healthy by removing dead or diseased branches, improves the tree's appearance, and ensures that the tree doesn't become a safety hazard by growing into power lines or overhanging buildings.
When is the best time to trim trees? The best time to trim trees depends on the type of tree and the reason for trimming. In general, it's best to trim trees during their dormant season, which is typically in the late fall or winter. However, certain trees may require trimming at other times of the year.
PV Trimmers Is Proud To Be A Locally-Owned Business
PV Trimmers is a premier locally-owned tree service company based in Phoenix, AZ, dedicated to providing top-notch tree care solutions. With deep roots in the community, they understand the unique needs of Phoenix residents. Whether you require expert tree trimming, pruning, or removal, PV Trimmers has a team of skilled arborists ready to tackle any challenge. Conveniently situated near popular attractions like Papago Park, AZBATTLEZONE, and Castles N Coasters, PV Trimmers not only brings their expertise to your doorstep but also ensures local relevance by catering to the needs of residents in these bustling areas. Trust PV Trimmers to keep your trees healthy, vibrant, and well-maintained while you enjoy the beauty and recreational opportunities offered by these iconic Phoenix destinations. Directions to PV Trimmers
Your Search For Professional Tree Trimming Near Me Is Over
PV Trimmers is a highly experienced tree service company located in Phoenix, AZ, dedicated to providing exceptional care for your trees. With a commitment to customer satisfaction, PV Trimmers offers free estimates and a comprehensive range of services to meet all your tree care needs. From professional tree trimming and pruning to efficient tree removal, our team of friendly experts ensures the health and beauty of your trees. We are conveniently situated near key bus stops and transit centers in Phoenix, such as Phoenix Public Transit-North, 44th St Sky Train Station, and Sunnyslope Transit Center. Trust PV Trimmers to provide exceptional tree services for your property. Transit Directions To PV Trimmers
We Proudly Offer Our Wide Range Of Tree Care Services Throughout Phoenix, AZ Neighborhoods, Including:
85028 85020 85253 85032 85016 85022 85254 85021 85014 85018 85012 85029 85023 85013 85250 85015 85051 85258 85260 85251 85061 85252 85261 85267 85271 85008 85006 85050 85017 85053 85054 85024 85027 85019
Take A Look At Some Of The Reviews Left By Our Customers
"Professional, Quality, Prompt work. PV Trimmers are on point and know their trade. After Large storm caused 2 trees over 40 tall to fall in my yard and on my toy hauler I called them. THE NEXT DAY THEY ARRIVED, with a crane and all the equipment to remove the trees. Mike and his team re awesome, they went above and beyond to clean everything up and make it look like nothing ever happened. 6 Stars!" -Brin L.
Read More Reviews Here
"Mike, Chris and the crew were wonderful and did an excellent job.  They and the crew were very nice and cleaned up everything in the yard as well.   I am so glad I found PV Trimmers as they also live in the neighborhood.   With over 25+ palms in the yard its a very big job.   They showed up by 630am but waited till 7am to start the power equipment too.   Very nicely done." -Blair G.
We Are Proud To Offer A Wide Range Of Tree Care Services
Certified Arborist
Date Palm Trimming
Palm Tree Trimming
Stump Grinding
Tree Removal
Tree Service
Tree Trimming
About Phoenix, AZ
Phoenix, AZ, often referred to as the "Valley of the Sun," is a vibrant city that boasts a unique blend of urban amenities and natural beauty. With its diverse landscape and abundant sunshine, Phoenix is home to a remarkable variety of trees that add charm and character to the cityscape.
The city's tree-lined streets, parks, and neighborhoods are a testament to the importance of maintaining a healthy and thriving urban forest. Among the many species that grace Phoenix's skyline are majestic palm trees, graceful mesquites, iconic saguaros, and vibrant desert willows. These trees not only provide shade and beauty but also play a crucial role in improving air quality, reducing urban heat island effect, and enhancing the overall well-being of the community.
In the midst of this tree-rich environment, PV Trimmers stands as a trusted and experienced tree service company. Committed to preserving and enhancing the health of Phoenix's trees, PV Trimmers offers a wide range of services, including expert tree trimming, pruning, and removal. Their team of skilled arborists understands the unique needs of the local tree species and employs industry-leading practices to ensure their longevity and vitality.
Whether it's maintaining the symmetry of palm trees along Phoenix's boulevards or preserving the native flora in residential areas, PV Trimmers takes pride in their meticulous approach and attention to detail. With a focus on customer satisfaction, they provide free estimates, professional service, and a deep commitment to the well-being of the city's urban forest.
When it comes to tree care in Phoenix, PV Trimmers is the go-to choice for residents and businesses alike. Their expertise, combined with a passion for preserving the natural beauty of the city, makes them an invaluable asset to the community and a trusted partner in maintaining a healthy and thriving urban ecosystem.
Directions To PV Trimmers