Why choose a certified arborist?
While anyone can pick up a pair of tree trimmers and cut branches, certified tree specialists undertake professional tree service projects such as proper tree trimming and removal services. Most tree service professionals also provide more specialized and comprehensive tree services, such as tree pruning and professional stump grinding. Because of our location in Paradise Valley, PV Trimmers also specializes in palm tree trimming. Professional arborists can also assist with other complete tree care needs you my have, such as tree fertilization and soil management, tree planting, tree protection and risk management, and stump removal.
---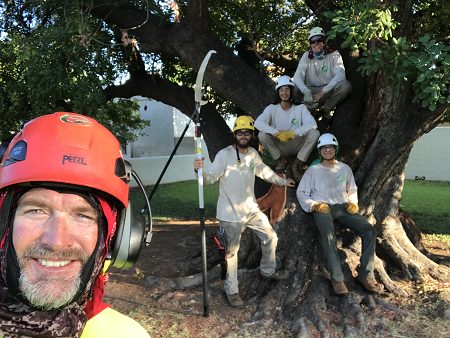 Trimming trees has advantages
Carefully trimming trees can provide several benefits for your property while also looking great. Depending on the type of tree you have and the desired effect, these may include:
Increasing structural stability – Trees can become top-heavy or heavy on a single side. These hazardous trees are more prone to losing branches or falling after natural events like windstorms or tree diseases. Removing these tree branches restores structural stability.
Reducing disease – If your tree has dead or rotting branches, it may contract a disease. By having us identify and remove these harmful areas early, you can limit the damage to your tree and give it the chance to become healthy once again.
Controlling growth – By carefully trimming specific branches, we can control the intake of energy-producing light your tree receives. This can benefit a tree when it needs to enter a dormant state. It can also help thin a tree and avoid wind damage.
Getting a better view – We don't just trim to benefit the tree. If your tree is blocking your view or stopping sunlight from entering your home, we can fix it. We know how to safely manage your trees to promote their health and meet your needs.
---
What Kind of Trees Do You Work On?
While palm trees are one of the more common species in the Phoenix area, our skilled tree service crew can also work on many other types of trees in the region. If you have a tall Aleppo or Canary Island Pine Tree in your yard or neighborhood, we can help keep its height under control to reduce tree felling risk and protect the surrounding structures. Have an Arizona Sweet Orange tree and wish you could get more fruit from it? Our careful tree pruning technique can help improve fruit production too!