Quality Tree Removal At A Low Cost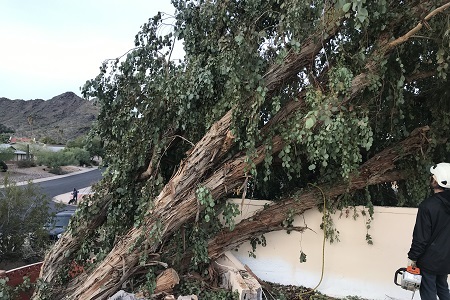 For tree removal in Phoenix, residents and business owners should rely on the experts at PV Trimmers. After all, tree removal Phoenix is an incredibly dangerous job when left in the hands of an amateur. Too often, Do-It-Yourself palm tree trimming or removal projects go wrong, resulting in property damage, injuries, or even death. The cost-effectiveness of DIY tree removal is nothing in comparison to the possible personal injury or property damage that could occur.
Instead of risking your safety, call our tree experts at PV Trimmers. Our professional tree removal is an easy and effective way to remove a tree on your residential or commercial property.
Why Should You Remove Your Tree?
There are many reasons that home or business owners decide that they want a tree removed. Sometimes it's not a matter of wanting the tree gone but can be a necessity. If the tree is starting to fall and has the potential to cause harm or damage to people or property, its removal is necessary. As we have been in the business for many years, we have seen and heard pretty much everything about tree removal. These are the most common reasons that people want a tree removed.
Sick with disease due to insects, bacterial, or fungal growth
Damaged by a storm or other causes
Compromised due to a rotting trunk or branches
Blocking an area from receiving sunlight or inhibiting a view
We might be able to save your tree! With a certified arborist on staff, we'll happily check your tree's health first. Our skilled tree surgeons can save even trees that look dead!
Removing A Palm Tree
Whatever the reason is, if you want a palm tree removed from your property, there are a few factors to consider. Uprooting a palm tree by yourself can be incredibly dangerous. The first thing you should do is determine the species of palm tree that you have. There are many different types of palm trees. Some trees are widespread and can be cut down without any problems, other species are rarer and can be of some monetary value. Queen Palm and Mexican Palm are two of the most common species, whereas the Kenita and Chilean Wine Palm are not as common and can be worth some money if you opt to have them removed and relocated instead of cut down.
If you decide to have your tree cut down, the next step is to determine the accessibility. There needs to be complete access to the tree and no nearby powerlines. These factors affect how difficult it will be to remove the tree. Depending on the height of the tree, some state laws prohibit home and business owners from cutting down their trees because of the danger level. The taller the tree, the more dangerous it is to cut it down.
How To Cut Down A Tree
Our arborists have years of training and experience that allows them to safely and effectively cut down trees. Even though we specialize in palm tree trimming and removal, we are happy to provide service for a variety of other tree species. Safety is our number one concern when removing any tree. Our team of specialists always wears proper protection, including earmuffs, hard hats, and eye protection.
Trimming a tree is necessary before cutting it down. Doing this helps ensure that it will fall in the direction that we want it to and creates less damage and mess when it falls. At PV Trimmers, we are a team of professional arborists, so trimming trees of any species is our specialty/ Depending on the type of tree and the height, a harness or hydraulic lift will be required. For palm trees, we will remove any large fronds and for other trees, any branches that could potentially cause problems. After we have determined the direction that it will fall and have cleared an appropriate landing space, we can then safely and effectively cut the tree down. And of course, we provide stump grinding for any unsightly tree stumps that you don't want.
Benefits Of Professional Tree Removal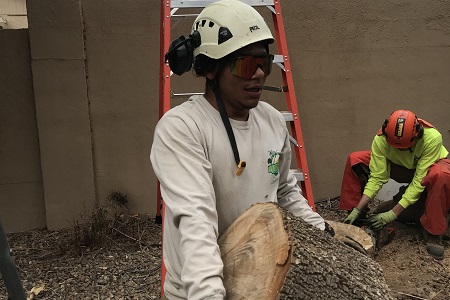 The benefits of hiring a professional arborist to remove a tree instead of doing it yourself are far and wide. Knowing that you don't have to risk a tree falling through your or your neighbors home is probably the biggest reward.
Phoenix Arborists
With over 20 years of experience, our tree trimming company only hires experts in their field. We'll diagnose your tree before removal to make sure you are aware of any additional options you may have. No matter how tall the tree, thick the branches, or wide the canopy, we can safely remove your tree.
Highest Tree Removal Safety
Safety is crucial, especially when the offending tree is a danger to persons or property. Trees frequently put structures, vehicles, and power lines at risk. We use honed and practiced removal methods to carefully pair down and remove trees without the potential for damage.
Proper Tree Removal Equipment
Using dull blades or less than standard equipment can not only take much longer but can also be dangerous when cutting down a tree. The right equipment can make all the difference. We use commercial-grade equipment to provide you with the most reliable removal services Phoenix has to offer. For swift and efficient tree service, nothing beats high-grade removal tools wielded by proficient professionals.
Local Tree Removal Specialists
Whatever kind of tree you have on your property, give us a call. PV Trimmers specializes in the trimming and removal of trees. We are a team of trained and experienced arborists. We have the equipment and skill set to handle any job that comes our way. Whether you have a 20-foot palm tree that's dying or a bad storm has caused your tree to lean dangerously close to your home, we are there for you! Don't risk damage your home, business, or yourself; contact the experts at PV Trimmers today!
---
Contact us for tree removal in Phoenix today
We'll remove your tree, haul it away, and thoroughly clean the area.  And we'll do it at an affordable price!