Get the tree care you need from a certified arborist.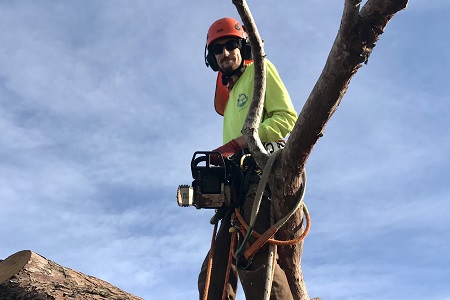 It's easy to take trees, plants, and other flora for granted. It can feel like watering is all they need, right up until something goes wrong. There are many problems that can affect plants and trees in Phoenix. Problems ranging from poor soil conditions to bacterial infections and pestilence can harm native and non-native species. When you're having plant and tree problems the best way to manage it is with the help of a certified arborist that Phoenix trusts. PV Trimmers has more than 20 years of industry experience providing trusted foliage services to Phoenix homes and businesses.
What makes an arborist an expert in their field?
Arborist certifications are extensive. They require a candidate to undergo in-depth testing buoyed by constant continuing education in order to re-qualify. To maintain knowledge standards re-certification is required every 3 years. Our arborists have complete knowledge of local and non-native trees. We frequently provide management and correction for far-ranging problems.
Which issues can a tree arborist help with?
Tree planting: We can determine the right location for a new tree and relocate poorly situated trees.
Tree removal: Safe removal of compromising trees is important. It keeps you safe and other trees healthy.
Targeted pruning: Whether pruning for spring growth, protection, fruit, or more, we do it correctly.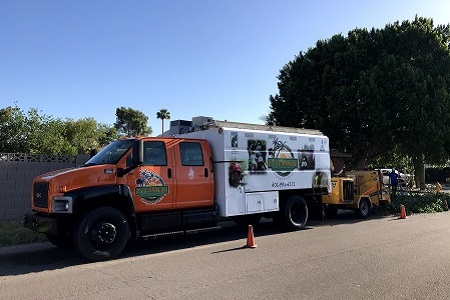 Insect control: Our Phoenix arborist can identify harmful insects and execute control procedures.
Fertilization: Proper fertilization techniques for trees at every stage of growth help them live longer.
Cabling: We perform cabling that keeps your tree healthy and prevents damage due to unsupported branches.
Emergency service: When you need immediate help our arborists are here to diagnose and address tree problems.
Contact us for a certified arborist in Phoenix today!
No matter what tree service you're looking for, our certified arborists in Phoenix are depended on by amateur gardeners and professionals alike. The safety and health of your trees, and yourself, is our greatest priority. Give your tree the attention it deserves. Call us today!
Choose us as your Certified Arborists for Phoenix!
Our combination of service, speed, and affordability make us the top choice for tree services!