Choose a professional stump grinder and save.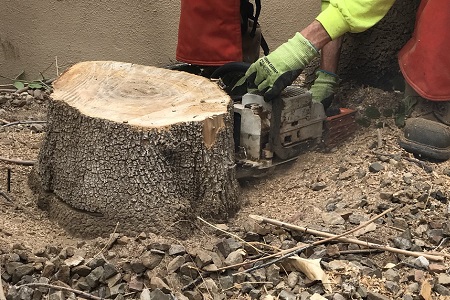 A simple stump can turn into a serious problem if it isn't dealt with. Even though you might think of it as nothing more than an eyesore, a stump is a perfect place for pests like termites and stinging insects to make a home. The closer a stump is to your home, the more likely pests will choose it when they grow out of the stump. Manual stump removal can be difficult if not impossible. Choosing stump grinding in Phoenix from PV Trimmers provides an easier, faster, and safer removal of your unwanted stumps by trained professionals.
Choose stump grinding with a difference.
We focus on more tree services than just stump grinding. Our team includes multiple arborists and tree technicians. That means we can safely remove a stump without negatively impacting adjacent trees. Removing a stump shouldn't risk the health of surrounding trees. With our experts on the job, it never will.
Why grind a stump away?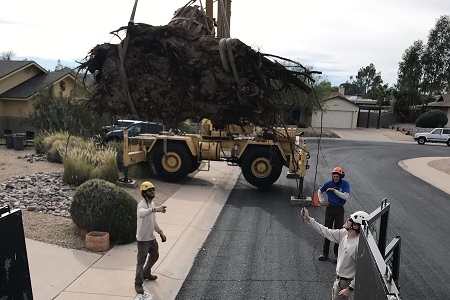 Grinding is the fastest way to remove a stump. There's nothing faster than grinding a stump. It's the quickest way to get guaranteed removal. If you try to remove a stump by hand it can take days and may not even be successful. Our equipment is made for the job and can handle even large, deeply rooted stumps.
Our technicians keep you safe. Stump grinders are heavy duty machines. They range in size and if improperly handled can cause life-ending injuries to persons and serious damage to property. Our techs know how to safely, efficiently, and accurately operate these machines. We can remove stumps and protect you at the same time.
We remove the stump you can see and the stump you can't. Grinding is just one aspect of the process. We can also remove the below-ground portions of stumps and any large areas of the root structure. These sub-ground stump sections can still harbor termites. We'll remove them so your home stays pest-free.
Contact us today.
There's never a bad time to protect your home and safety. We'll schedule an appointment as soon as possible and safely remove your unsightly and dangerous stump. Don't DIY to a major injury. Call or contact us today and rid yourself of dead stumps.
Choose the best stump removal services in Phoenix!
Our combination of service, speed, and affordability make us the top choice for stump removal!