Get the tree service you need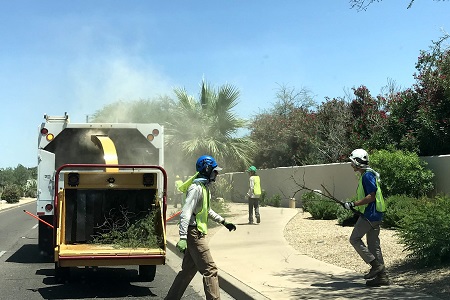 When you need help with your trees, you want a tree care company in Phoenix that takes care of you. And having it all done by a single source not only saves you time and money, but is more convenient too. Many companies don't have the equipment to perform stump grinding or don't have skilled arborists who can properly diagnose a tree. At PV Trimmers we do. We've focused on providing quality tree service at affordable prices since we first opened our doors in 1993. And always treat you and your trees with respect!
Affordable tree service starts here
As a family-owned company, we know the difference a cohesive team can make. That's why from our arborists to our tree care technicians, we work together for the safety and health of our clients and their trees. Openly sharing knowledge makes our company stronger, and helps our clients make informed choices that benefit their trees in the long term. And having a smaller, dedicated team means we pass our savings directly on to you!
We help protect your trees
We pride ourselves on being able to handle anything your trees need. Our team provides you with tree care services such as:
Tree Diagnosis and Treatment: Different tree species contract different ailments. These can depend on age and condition as well. Our arborists are experienced at analyzing and diagnosing trees. If saving the tree is a possibility, our tree surgeons have the tools and treatments required for action. Industrial strength options may be more effective, and if multiple solutions are required, our arborists will identify them.
Tree Support and Maintenance: Our arborists know how to keep your trees growing in the best shape.
Tree Planting and Fertilization: With our professional planting and fertilization tree service, your trees are always off to a good start. We can analyze your soil conditions and provide missing nutrients, teaching you the best way to water and care for your tree at every stage of its life.
Tree Trimming and Pruning: Depending on the type of tree we can provide benefits that range from greater fruit yields to canopy reductions, dead branch removal, and more. Tree trimming and pruning is a great tree service for ensuring your tree is healthy and problem free.
What about when a tree can't be saved?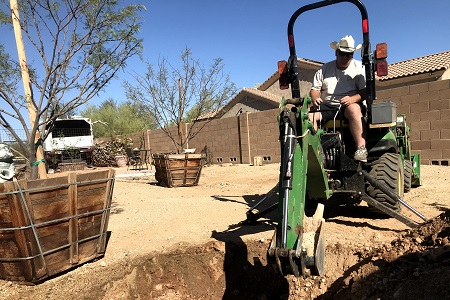 Unfortunately, sometimes a tree is simply too far gone to get back to health. We can get these sick or already dead trees off of your property and leave no debris behind with tree removal services including:
Tree Removal: Our arborist can diagnose your tree before removal. If you have options, we'll explain them in detail. Tree removal is performed safely and we have the experience and skills necessary to work around power lines and buildings.
Stump Grinding: Tree services in Phoenix are an easy way to safely remove stumps. We have the equipment necessary for swift and efficient grinding, and can completely remove a stump from your property.
Choose our tree company for all your tree care needs
With so many great tree services under one banner, we are Phoenix's complete tree care solution. Get expert care from a company that always puts you and your tree's needs first. And with no obligation free estimates, you have nothing to lose! Give us a call or contact us to set up your appointment today.
Choose the most comprehensive tree services in Phoenix!
Our combination of service, speed, and affordability make us the top choice for any and all tree services!