What are the most common tree services?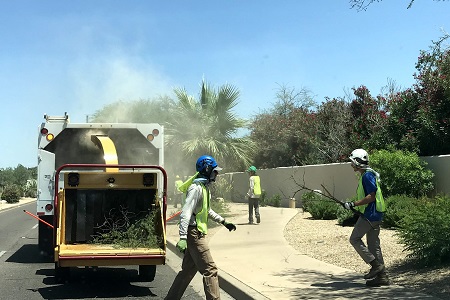 Having a single tree company you trust to provide tree service in Scottsdale can save time and reduce costs. Many companies provide basic services. This leaves you to hire a separate company for heavy work like stump grinding or technical work like disease diagnosis. At PV Trimmers we've built our business around full, affordable tree service and we've been providing it since 1993.
---
Get local help from our tree technicians and arborists.
We've been your source for tree service in Scottsdale for 20 years. As a family-owned and run business, teamwork is crucial. That's why our arborists and tree care technicians work side by side to protect the safety of our clients and the health of their trees. Trees are our passion, and we love sharing advice, tips, and recommendations with our clients. This lets them make informed decisions that provide long-term benefits for their trees.
Tree Services Include: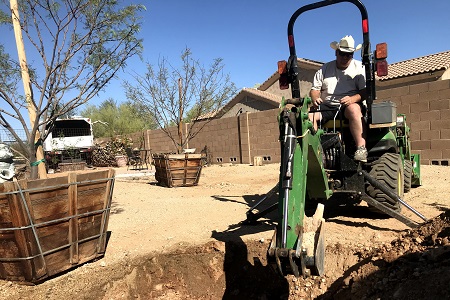 Tree Trimming: Depending on your tree species, we can tailor tree trimming for unique effects. Our experts can increase fruit yields, reduce canopies, remove dead branches, and more. Tree trimming is a great way to maintain the health of your tree.
Tree Removal: Tree removal isn't always a first resort. Our arborists will diagnose your tree and determine if there are other options. Removal is always performed with a high degree of safety. We have the experience to work around common trouble areas like buildings and live wires.
Stump Grinding: Tree services in Scottsdale are the simple way to get stump removal. Our commercial grade equipment is built specifically for the job. This makes stump grinding fast and reliable, anywhere on your property.
Tree Diagnosis and Treatment: Different species of tree suffer from unique ailments. These are also dependent on age and tree condition. Different factors like soil nutrient density may come into play. Our arborists can diagnose your tree and identify contributing factors. If we can save your tree, we can apply commercial treatments that are frequently more effective than store-bought remedies.
Tree Fertilization and Planting: With our expert planting and fertilization tree service, Scottsdale trees always begin life with a branch up. We can perform soil analysis and provide nutrients that may be lacking in natural soil. Our technicians are happy to go over the growth cycles of your tree, preparing you to take care of it at every step.
With so many tree services under one canopy, we're Scottsdale's complete tree care company. Get the help you need from trained local experts that always put you and your tree's needs first. Call or contact us for tree service today.
Choose the most comprehensive tree services in Scottsdale!
Our combination of service, speed, and affordability make us the top choice for any and all tree services!