Why hire a tree service company?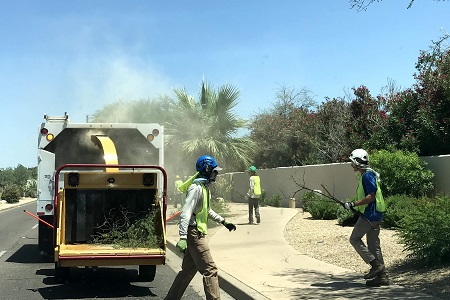 Finding a dependable tree company to perform your tree service in Paradise Valley can save money and time. Tree companies vary in their services. Some cannot deliver stump grinding or lack experienced arborists capable of correctly diagnosing a tree. At PV Trimmers we offer complete foliage services at cost-effective prices. It's how we've done business since opening in 1993.
Is your tree service provider local?
We provide tree service that Paradise Valley has relied on for more than 20 years. Our business is family-owned. We understand the difference teamwork can make. Everyone on our staff works together. Our arborists and tree technicians work as a team for the health and safety of your trees and yourself. Team members openly share knowledge. This makes our business strong and helps you make an informed decision that benefits the long-term health of your trees.
Get the tree services you need.
Tree Trimming: Trimming needs vary. The lifespan of a tree, species, and season all effect our recommendations.  Branch and leaf trimming provide advantages that like removing dead branches and decreasing the canopy size. We can even improve fruit yields. Tree trimming is a fantastic tree service that keeps your tree problem free and healthy.
Tree Removal: Our on-staff arborist will fully diagnose the health of your tree before we consider removing it. We'll explain any additional options in detail. We remove trees with safety in mind. Our company has the skills and required experience to safely work in the vicinity of buildings and power lines.
Stump Grinding: DIY stump removal can be very dangerous and time-consuming. We have commercial equipment for efficient and swift grinding. This allows us to safely and quickly remove stumps anywhere on your property.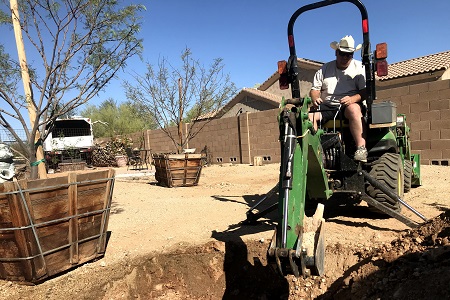 Tree Diagnosis and Treatment: Different tree species are vulnerable to specific diseases. A tree's condition and age can make it more vulnerable to specific ones. Our arborists are trained to analysis and diagnosis trees. If saving them is a possibility, we have the treatments and tools to do it. Commercial grade options are more effective than store-bought treatments. If your tree requires a multi-stage treatment, our technicians can carry it out.
Tree Fertilization and Planting: Our professional fertilization and planting tree service provide your trees with a great start. We can analyze the condition of your soil and provide missing nutrients. Our friendly staff is happy to teach you how to care and water your tree at each stage of its growth cycle.
Get every tree service under one umbrella—we're Paradise Valley's total tree care solution. Choose professional help from local specialists that always put you and the needs of your tree first. Call or contact us today.
Choose the most comprehensive tree services in Paradise Valley!
Our combination of service, speed, and affordability make us the top choice for any and all tree services!