Why should have your date palm professionally pruned?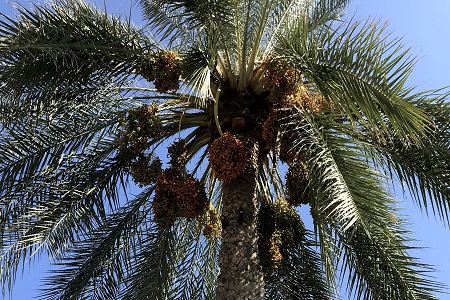 Date palms are a great addition to any landscape, but taking care of their health can be difficult. Without proper date palm trimming in Phoenix, these beautiful trees can suffer from illness, death, or even injure pedestrians or property. Safety when trimming is a major concern, and that's why it's best to hire one of our professional tree trimmers at PV Trimmers.
Why does a date palm need trimming?
Trimming removes dead palm leaves and fronds that can harbor pests like rats and scorpions.
A trimmed palm doesn't carry heavy dead fronds that can fall and injure or even kill.
Dead palm fronds are a major fire hazard and can catch light with very little flame.
Date palm pruning helps regulate and control seed growth and dispersal.
A clean date palm won't block visuals like signs and lights.
Trimming a date palm decreases the chance of damage to property from falling fronds.
We keep you and your palm healthy and safe.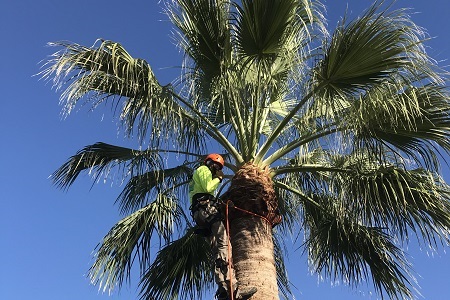 There are some major hazards present when trimming date palms. Even veteran arborists with decades of experience succumb to these hazards every single year. Our trimmers know these dangers well. Just some of the issues faced by tree trimmers include accidental cutting of power lines or safety lines and the potential for suffocation. Dead palm fronds can weigh hundreds of pounds. If they aren't cut properly they may not release from the tree and can crush a trimmer beneath them. Your life is worth so much more than trimming services. Don't put it at risk.
Our palm tree specialists know your tree.
Different date palms benefit from certain trims. If you're trying to grow fruit as well you'll want a trim designed to help improve yield and flavor. We work with every type of date palm variety grown throughout Phoenix. These include the:
Canary Island Date Palm
Edible Date Palm
Indian Date Palm
Pigmy Date Palm
Senegal Date Palm
True Date Palm
Contact us for date palm pruning today!
We're happy to schedule services around your needs. When it comes to tree trimming, don't take the risk. Our experts are knowledgeable and skilled at providing you with safer, healthier date palm trees. Call or contact us for an estimate today.
Choose us for date palm tree trimming and more in Phoenix!
Our combination of service, speed, and affordability make us the top choice for tree services!