Stump grinding protects your property.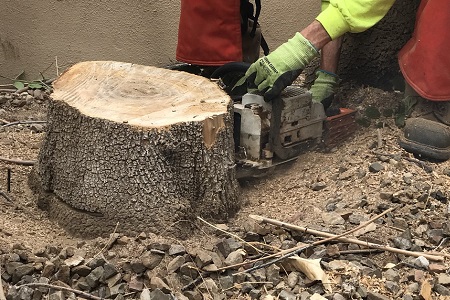 A stump might look like nothing, but it can spell major trouble if you don't deal with it. That's because stumps are perfect homes for pests like stinging insects and termites. The closer the stump to your house, the better the chance those pests will move in. Manual removal can be nearly impossible. Get easy, safe, and affordable stump removal with stump grinding in Paradise Valley from the foliage experts at PV Trimmers.
Our tree stump removal doesn't put your other trees at risk.
We don't just focus on stump grinding. Our team is made up of specialists that include a certified arborist. They can make sure surrounding trees are unaffected when we grind and take out the stump. Removing a stump shouldn't risk your other trees. With our help, it won't.
Why choose stump grinding?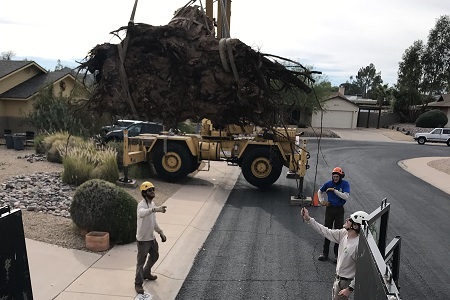 How long does stump grinding take? Grinding removes a stump quickly. Nothing is faster. It delivers guaranteed removal. Removing a stump by hand is a multi-day project. You might not even succeed. Our equipment is built specifically for grinding and removal. We can even take care of big, deeply embedded stumps.
Our tree removal technicians keep you protected. Stump grinders are serious machines. They can be quite large and are capable of life-ending injuries and serious damage if used improperly. Our techs know how to operate these with accuracy while remaining safe. That protects you and rids you of your stump.
We remove the visible stump and the embedded stump. Grinding is the first step. We also take the time to remove the stump below ground and any larger root structures. These underground sections of the stump can still play home to termites. We get rid of them so you stay pest-free.
Contact us now for stump grinding in Paradise Valley today.
Protect your personal safety and that of your home. We'll schedule an appointment around your schedule to remove your dangerous and unsightly stump. DIY stump removal can cost you more than the price of our services—it can cost you your health. Call or contact us today and rid yourself of dead stumps.
Choose the best stump removal services in Paradise Valley!
Our combination of service, speed, and affordability make us the top choice for stump removal!