Your local tree removal contractors.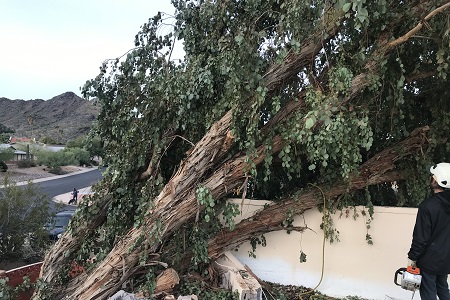 For tree removal, Paradise Valley depends on the professionals at PV Trimmers. Removing trees can be very hazardous. Homeowners often try to perform it themselves in an effort to reduce costs. The savings from DIY tree removal disappear when property damage or personal injury results. Don't risk your safety. Our expert tree removers are an effective and easy way to remove trees on residential and commercial sites.
Why get tree removal services in Paradise Valley?
There are many reasons to remove a tree. We regularly remove trees because of:
Disease caused by pest infestation, fungal, or bacterial growth.
Damage from wind, lightning, and more natural causes.
The tree is rotting, causing structural instability.
Foliage blocks a view or keeps an area from receiving sunlight.
Professional tree removal is performed: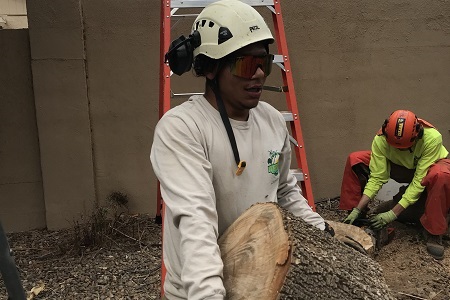 By tree care specialists and arborists: Our company only hires tree care experts and has been removing trees for over 20 years. Our experts will diagnose your tree before removing it. We always inform you of any additional options that may exist. No matter how thick the branches, how tall the trunk, or how large the canopy, we provide safe removal of your tree.
To the greatest safety standards: Safety is important, especially when a tree risks damaging individuals or property. Trees frequently put power lines, structures, and vehicles at risk. We use practiced and honed removal methods to carefully trim and remove trees without damaging their surroundings.
Using the right equipment: Commercial-grade equipment makes all the difference. We own all the necessary equipment to perform reliable removal services that Paradise Valley property owners trust. Our tools are commercial grade, providing efficient and swift service.
Get your tree removed today. Call now.
We perform careful tree removal, haul branches and foliage away, and clean the entire area. Get rid of unwanted trees the safe way. Call or contact us today for professional tree service from a local family-owned company you can depend on.
Contact us for tree removal in Paradise Valley today
We'll remove your tree, haul it away, and thoroughly clean the area. And we'll do it at an affordable price!