Want to protect your tree with a professional trim?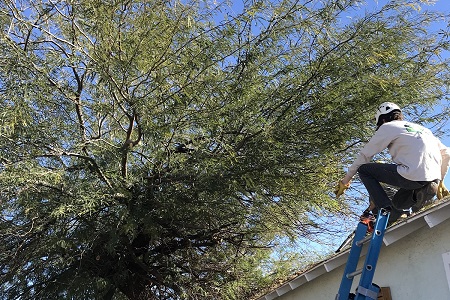 When it comes to tree trimming in Scottsdale, nature enthusiasts know that experience can make all the difference. Amateur tree trimming doesn't just hurt the beauty of a tree, it can open it up to infection, damage it, or even kill it. With 20 years of industry-leading experience, PV Trimmers has been providing local trees with the care they dedicated care they need. With certified arborists on staff, we know every native and non-native species and can help you achieve whatever result you are after.
What are the benefits of trimming trees?
Depending on the effects you hope to achieve, tree trimming and pruning can be incredibly beneficial. It can help:
Contact us for tree trimming service in Scottsdale today!
When it comes to tree care, both the trees and their owners deserve great service. We'll ensure trimming is beneficial to your tree and meets your needs. Our friendly experts are happy to share advice and recommendations. Pair that with excellent pricing and a reputation for service that spans 20 years and you know you're in good hands. Call or contact us for a free estimate on tree trimming in Scottsdale today.
Contact Us Today for a Free Estimate
Choose the most comprehensive tree trimming services in Scottsdale!
Our combination of service, speed, and affordability make us the top choice among tree trimmers!