Want to Protect Your Tree with Professional Tree Trimming Near Me?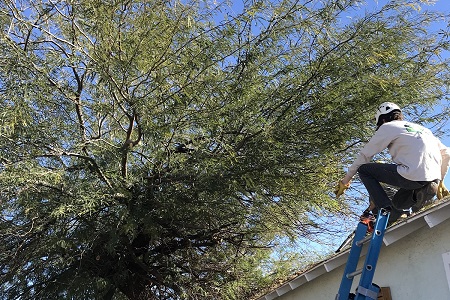 Regarding tree trimming in Scottsdale, nature enthusiasts know that experience can make all the difference. Amateur tree trimming doesn't just hurt the beauty of a tree. It can open it up to infection, damage, or even kill it. With 20 years of industry-leading experience, PV Trimmers has been providing local trees with the dedicated care they need. With certified arborists on staff, our experienced team knows every native and non-native tree species and can help you achieve whatever result you are after at an affordable price.
We Specialize in Palm Tree Trimming
Professional palm tree trimmers are experts in properly maintaining palm trees. Their knowledge and solid experience allow them to trim palm trees using specific techniques that promote healthy growth. Proper palm tree trimming involves assessing the overall structure and health of the tree, then making precise cuts to remove only problem areas. Hiring experienced tree service professionals ensures your trees receive the expert care they need to thrive and enhances the curb appeal and value of your property. With regular trimming from PV Trimmers, your palm trees will remain beautiful focal points on your landscape.
The Search for Comprehensive Tree Service Near Me Is Over
We pride ourselves on offering a wide range of top-quality, professional tree services to our clients:
Stump grinding services (Date Palm and palm tree stump removal)
Tree removal services (Date Palm and palm tree removal)
Date Palm and palm tree trimming services
Tree planting and tree fertilization
Tree maintenance and care
From regular pruning and trimming to complex removals, our skilled team of experts is dedicated to providing comprehensive solutions that ensure your beautiful trees stay healthy and beautiful for years to come.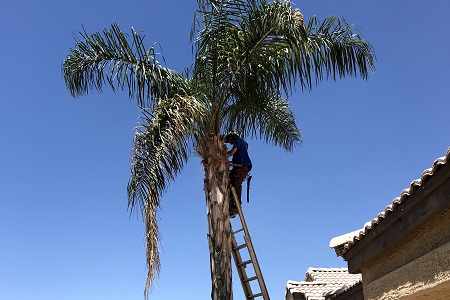 What Are the Benefits of Tree Pruning?
Tree trimming and pruning can be incredibly beneficial depending on the effects you hope to achieve. It can help:
Improve tree stability – Without trimming, trees can suffer from overgrown branches. These branches can break, causing a tree to become heavy on one side. This can disrupt root structures and cause a tree to fall. Our quality tree care specialists correctly, safely, and evenly remove branches to promote tree stability without harming their health.
Reduce disease – Just like wounds suffered by a human, broken and dead branches can lead to a sick tree. Bacterial and fungal growth infections that start on a tree branch can also spread to the trunk, leading to the need for tree removal experts. With our tree trimming, technicians identify and remove these dead branches. This helps maintain a healthy tree.
Improve yield – Pruning specific branches on fruit-bearing trees, such as a Date Palm tree, can increase yield. We can help you to achieve greater yields of larger fruits in as little as a single visit.
Improve your view – A great view is important. When an overgrown tree interrupts this or creates areas of shade where you don't want them, it can be frustrating. Instead of complete tree removal, why not save your tree and your view? Our trimming can provide the light and landscape you want without harming your tree.
Contact Us for Tree Trimming Service in Scottsdale AZ Today
When it comes to proper tree care, both the trees and their owners deserve great service. Our licensed arborists ensure trimming is beneficial to your tree and meets your needs. Like a tree doctor, our friendly tree experts are happy to share advice and recommendations. Pair that with a fair price and a reputation for service that spans 20 years, and you know you're in good hands. Call our affordable tree service company for a free estimate on tree trimming in Scottsdale & Phoenix today. Our customer service is exceptional.
Contact Us Today for a Free Estimate
Common Tree Trimming Questions
Why is tree trimming important?
Tree trimming is important for several reasons. It helps to keep trees healthy by removing dead or diseased branches, improves the tree's appearance, and ensures that the tree doesn't become a safety hazard by growing into power lines or overhanging buildings.
When is the best time to trim trees?
The best time to trim trees depends on the type of tree and the reason for trimming. In general, it's best to trim trees during their dormant season, which is typically in the late fall or winter. However, certain trees may require trimming at other times of the year.
Can I trim my own trees, or should I hire a professional?
It's possible to trim small trees on your own, but for larger trees or those near power lines, it's best to hire a professional tree trimming service. Trimming trees can be dangerous, and a professional will have the necessary equipment and expertise to do the job safely and effectively.
How much does tree trimming cost?
The cost of tree trimming can vary depending on the size and location of the tree, as well as the complexity of the job.
What should I look for in a tree trimming service?
When choosing a tree trimming service, it's important to look for a company that is licensed, insured and has a good reputation in the community. You should also ask for references and get a detailed estimate before hiring any service. CONTACT US, YOUR LOCAL TREE-TRIMMING EXPERTS. Over 20 years of experience!
Choose the most comprehensive tree trimming services in Scottsdale!
Our combination of service, speed, and affordability make us the top choice among tree trimmers!