Why You Should Hire an Arborist
Having a healthy, well-kept lawn is ideal. Some still even consider it part of the American dream – having a beautiful home with a lush yard for their family to enjoy. Maintaining a healthy lawn isn't just about the grass and the gardening, though. Trees are just as important, if not more. Having beautiful, healthy trees in your yard not only adds value to your home, but they also offer ecological benefits as well.
Unfortunately, many homeowners often forget about the trees, especially when they are already mature and seemingly don't require any tending. Even mature trees sometimes need care. Poorly maintained trees can be a hazard and a liability in some situations. If the work is not done by a professional, it can be a risk both to the tree and the person performing the maintenance.
Arborists specialize in the care of trees. They are trained to understand the specialized needs of each tree, ensuring its health and beauty. Whether you are looking for tree removal or upkeep and maintenance, arborists have the proper tools and knowledge to get the job done safely.
What Is an Arborist?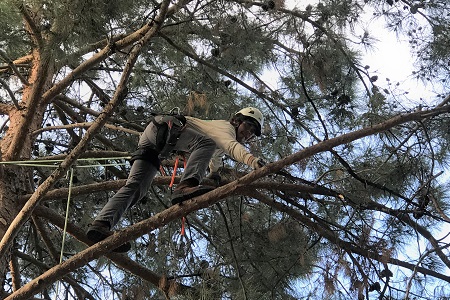 An arborist is a professional in the practice of arboriculture. Also, sometimes referred to as a tree surgeon or an arboriculturist, they specialize in the care, maintenance, and study of trees. Often, their knowledge even goes beyond that of tree species, extending to the knowledge of vines, shrubs, and various other plant life. And though they generally only focus on the care of individual plants and trees, they can sometimes enter into the field of foresting and logging as well.
Certified Arborists
Though not required, some arborists can choose to pursue formal certification, gaining additional qualifications in the practice of arboriculture. The International Society of Arboriculture (ISA) offers certification to those who wish to further their knowledge and competence in the care of trees. The program is not government-sponsored or endorsed but is a way for arborists to gain more experience and prove their commitment to the industry. To become certified, arborists must pass a rigorous written exam and show that they have over three years of professional experience in the industry.
Hiring an Arborist for Tree Removal
Tree removal can be especially dangerous and hazardous if not done correctly.  So when it comes to removing a tree from your yard, the work is better left to a professional. Not only do many arborists have certifications with ISA, but they also often have a Tree Risk Assessment Qualification (TRAQ) as well. Having this additional qualification ensures that your arborist is thoroughly skilled in risk assessment and removal.
The Dangers of Tree Removal
According to the US Bureau of Labor and Statistics, there are around 70 tree-related fatalities every year. Injuries and fatalities can occur from:
Improper equipment or use of tools
Power lines in the way
Falling off a ladder or out of a tree
Parts of the tree falling and landing on someone, or damaging property
Reasons Your Tree Might Need to Be Removed
Showing signs of death and decay
Insect infestation
Crowding or harming other trees
Has been assessed as a hazard
You want to replace it with a tree more suitable for the environment
The tree is blocking sunlight from reaching where it is needed
Arborists are specially trained to asses when a tree is genuinely dying, a hazard, or if it can be saved or needs to be moved. Removal is not always the answer. Certified arborists fully understand the risks and benefits of tree removal and will ensure the best decision is made for you and your property.
Tree Pruning With an Arborist
Tree pruning is just as much a science as it is an art. It might seem as simple as removing the pieces that are dead and dying, or that are overgrowing, but it's not. Improper pruning can be worse than pruning at all if you don't know what you're doing.
Risks of Tree Pruning
Improper cutting severely damages a tree. A common mistake made by homeowners and poorly trained tree cutter is cutting too close to the main trunk. Doing so removes the branch collar, which is an area with cells that help the tree heal.
Over pruning can weaken the structure of the tree. Trimming off too many leaves or branches too often can result in a lack of food and nutrient production.
If you are trimming your tree often in an attempt to get more sun, or to make room for other plants and trees, you may want to consider removing the tree altogether or moving it to a different spot in the yard.
Reasons to Prune a Tree
There are damaged branches and limbs
Limbs or branches are hanging over a structure
Dead or diseased limbs
Weak branches or limbs that have too much weight and are sagging
To train a young tree to develop a stronger structure
Other Tree Services an Arborist can Help With
Even seemingly simple tree maintenance tasks can be a risk or cause damage to the tree if not performed properly. It might seem simple to manage it yourself, but even the smallest mistake can lead to injuries or put you and your property, and the tree at risk.
Emergency Tree Care
If you have a downed tree or one that is close to falling, you should call a tree company or arborist as soon as possible. Arborists are trained to handle dangerous situations such as this and will know what precautions to take to keep you and your property safe.
Planting a New Tree
Though an arborist is not always needed when it comes to planting new trees, they can offer some expert advice. Arborists can help you determine the right tree for your property. Trees that aren't good for certain areas can lead to issues with limited space, poor growth, and insect infestations.
Health and Care of Your Tree
Arborists can ensure the health, beauty, and structural soundness of your tree with preventive care and maintenance. Without proper care, your tree can become susceptible to disease, insect infestations, and growth complications.
How PV Trimmers Can Help
PV Trimmers has more than 20 years of industry experience providing trusted tree services to Scottsdale, AZ. Our certified arborists are trained to help with a variety of tree problems and needs from tree removal, to cabling and emergency services. Call us today to experience the quality service of our arborists and give your tree the attention it deserves.