Looking for tree removal in Scottsdale?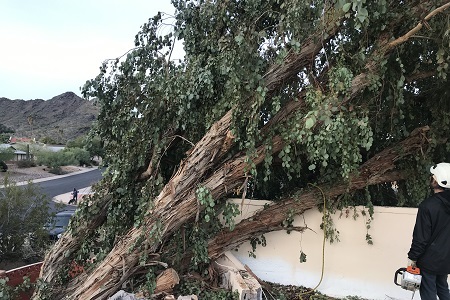 When it comes to tree removal in Scottsdale, property owners rely on the services of PV Trimmers. Our affordable tree removal service is effective and easy. Let our foliage experts safely remove unwanted trees on your commercial or residential property.
Trying to remove trees on your own can be very dangerous. Though the intention is usually to save money, it only works as a cost-effective measure if no damage occurs. With falls as one of the leading causes of injury—even among those specially trained—people without training are significantly more likely to suffer injury. That's in addition to the risk you take with personal property. Why take the dangerous road?
Our Affordable Tree Removal Service Removes the Danger From Your Yard
There are many reasons a tree may require removal. We frequently remove trees due to:
Disease caused by insects, bacteria, or fungus.
Damage caused by storms, lightning, and high winds.
Rot has compromised the tree beyond saving.
An area isn't receiving adequate light or a vista is blocked.
Professional tree removal is performed: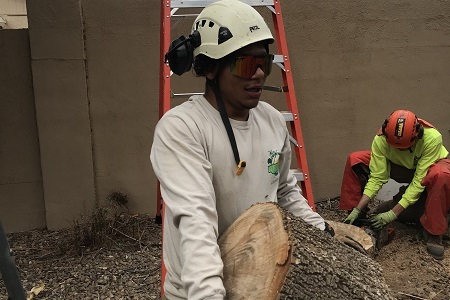 By tree care technicians and arborists: We have more than 20 years of tree trimming industry experience. With a team of veteran employees, we perform a full diagnosis of your tree before removal. This will reveal any additional options you may have before we move forward. We always employ best practices regarding safety for our employees, your person and family, and your property. Regardless of tree thickness or height, we'll safely remove it.
To the greatest safety standards: Safety is our main priority. Damaged and sickly trees frequently put valuable property at risk. This may include structures, vehicles, and landscaping, and can be especially troublesome around power lines. Our crew has honed their techniques over decades of on-site work and continual training. This allows us to carefully reduce and remove a tree without any risk to you or your possessions, including tricky ones like palm trees.
Using the right equipment: Having access to, and knowing how to correctly use the right tools for the job can make all the difference. All of our equipment is carefully maintained, and we only use commercial-grade options. These provide the most reliability and allow us to perform efficient tree removal Scottsdale residents can depend on to be timely.
Contact us for tree removal service today!
We'll remove specified trees, haul them away, and completely clean the area of debris. We can even provide stump grinding and removal, so you don't have an unsightly remnant left behind. Our tree care services won't be beaten by anyone around. So give us a call or contact us today to get your free estimate!
---
Contact us for tree removal in Scottsdale today
We'll remove your tree, haul it away, and thoroughly clean the area. And we'll do it at an affordable price!