Protect your Property with Stump Grinding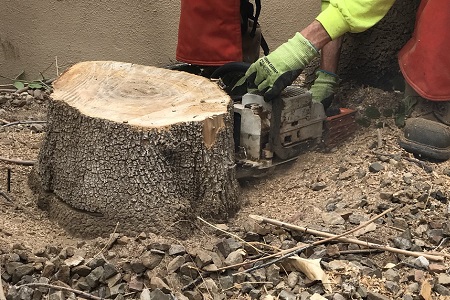 Nothing can cause damage quite like a pest. The secret is understanding how pests choose a property to infest. Infestations are much more likely when they have a nice starter home nearby. Your home is typically an upgrade. That starter? It's often a stump. Termites, stinging insects, and even rodents will set up inside of a stump. Manual stump removal can be almost impossible. Get safe, affordable, and easy stump removal with professional stump grinding in Scottsdale from the professional foliage team at PV Trimmers.
Get more from your stump grinding.
We do much more than grinding stumps. Our on-staff arborist can make sure grinding doesn't damage other trees. We can also provide additional services while there including specialized tree trimming.
Why grind a stump away?
Grinding is the fastest way to remove a stump. There's nothing faster. We guarantee complete removal and can perform service quickly. Trying to remove a stump by hand may not even work, and can last days. Our equipment is made for this particular job. That's how we can remove even deeply rooted tree stumps.
Our technicians keep you safe. Stump grinding can be deadly. If you don't know how to handle the equipment, take the right safety precautions, and grind a stump correctly, it can cause major injuries. We'll rid you of your stump while keeping your home and family safe from harm.
We remove visible stumps and embedded root structures. Grinding is just one step in the process. We also make sure to remove the stump below ground as well, and can even take out larger root structures. If these pieces are left behind they can be inviting to termites. We take care of them, so you stay free of pests.
Contact us today.
Your Scottsdale home deserves the best protection. Our services are a major part of that. If you have a stump that needs removing, we'll schedule an appointment at the earliest convenience to remove it. Don't DIY to a serious injury. Call or contact us today and rid your property of dead stumps.
Choose the best stump removal services in Scottsdale!
Our combination of service, speed, and affordability make us the top choice for stump removal!